SIA Door Supervisor
Training (Top-Up) Course in Edinburgh
The Adamantine Global SCQF Level 6 (Scottish qualification) Award for Door Supervisors training course, is our most popular for those looking to take their first steps into the private security industry.
During your time at our training academy, you will learn from instructors who are still currently operating within the leisure industry, working on some of the busiest clubs and pubs in the UK.
As part of this course, you will also be required to achieve a qualification in Emergency First Aid at Work which is included in our fantastic, competitive price. 

Our SIA Door Supervisor Training (Top-Up)
Popular For Those In The
Private Security Industry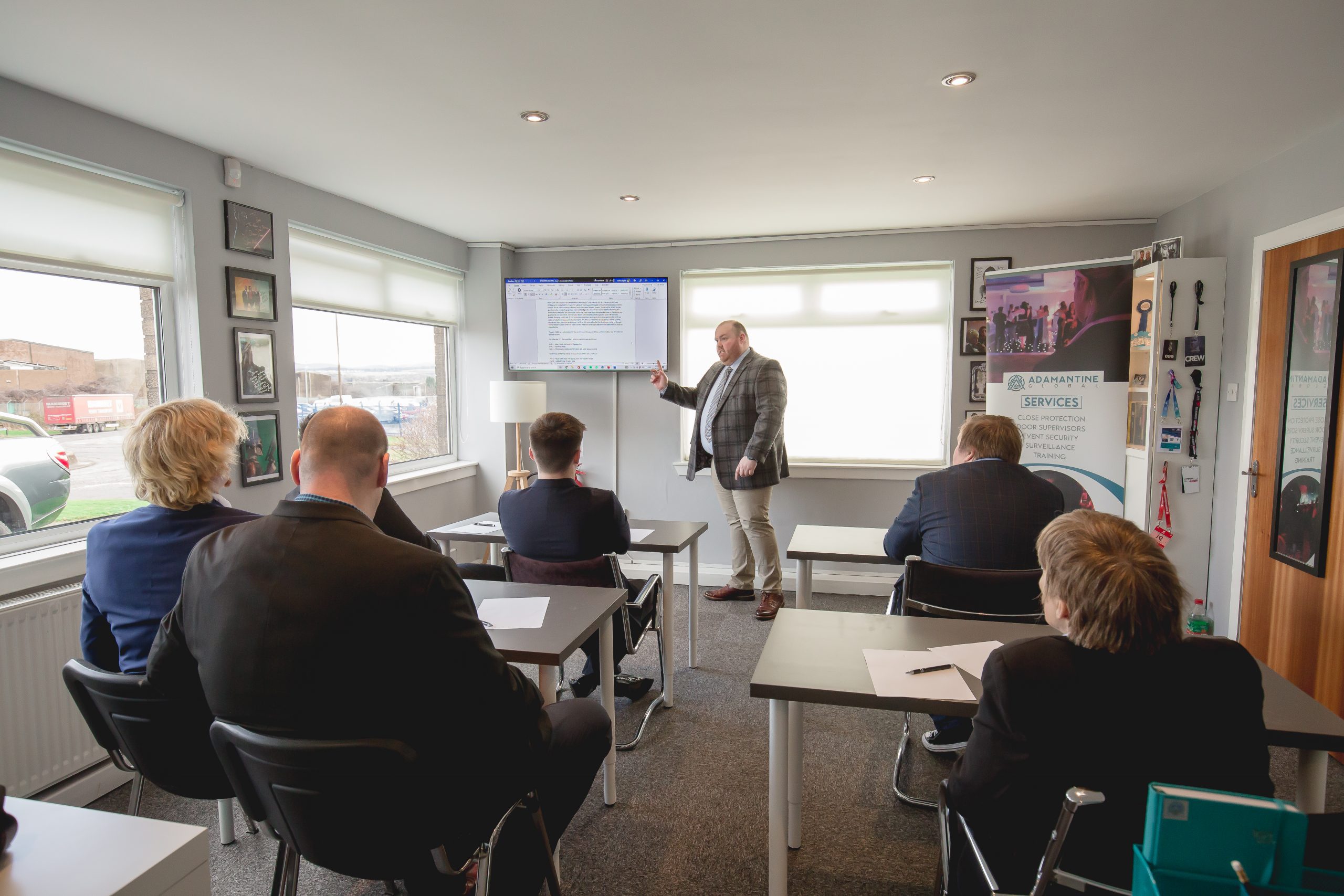 Once you have achieved your Highfield qualification, you have the opportunity to not only work in pubs and clubs, but also at music festivals, sporting events and within the corporate security world. 
Adamantine Global will also hand pick those seeking employment to put forward for an interview with our human resources team. We can't promise anyone a job but what we can do is give you the opportunity to gain employment and set you on your way within the security sector. 
What do I need to renew my Security Officer or Door Supervisor SIA licence?
You will need to undergo the SIA required top-up training. For Security officers this consists of Emergency First Aid at Work and the Security Officer Top-up course. Door Supervisors will need Emergency First Aid at Work and Door Supervisor Top-up including Physical Intervention.
How long does the top-up course take to complete?
For security officers this is a 1 day course and Adamantine Global run this on the same day as the Emergency First Aid at work course. Door Supervisors, we have taken the approach to combine the Emergency First Aid at work and the 2 days that are required for the qualification, resulting in a 2 day course.
How long before my renewal can I do the top-up training?
We recommend that you complete your top-up training no later than 4 months prior to your SIA licence being renewed. Your top-up qualification is valid for 3 years as is your First Aid qualification. Don't leave your top-up training too late.
I want to work at Festivals and Music events, What licence do I need?
You will require the 6 day Door Supervisor training course to gain your SIA licence to work at events or venues in a licenced role. Add an additional day for the Emergency First Aid at Work qualification making the course a total of 7 days.
Booking This SIA Door Supervisor Training (Top-Up) Course